You receive the following error message when installing your Trend Micro Security software: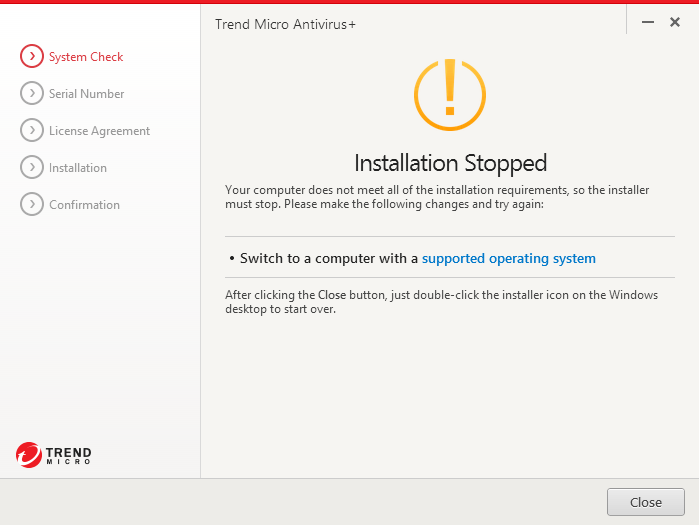 "Installation Stopped.
Your computer does not meet all of the installation requirements, so the installer must stop. Please make the following changes and try again:
Switch to a computer with a supported operating system"
This happens when your computer does not meet the system requirements to install the Trend Micro Security software.
---
Trend Micro Security for Windows Minimum System Requirements
Operating System

Windows 10 May 2019 Update (19H1)
Windows 10 October 2018 Update (RS5)
Windows 10 April 2018 Update (RS4)
Windows 10 Fall Creators Update (RS3)
Windows 10 Creators Update (RS2)
Windows 10 Anniversary Update (RS1)
Windows 10 November Update(TH2)
Windows 10 July Update (TH1)
Windows 10 (32-Bit or 64-Bit)
Windows 8.1 (32-Bit or 64-Bit)
Windows 7 SP1 (32-Bit or 64-Bit)

Hardware

1 GHz Processor
1GB Memory (2GB Recommended)
1.3GB of available hard disk space (1.5GB Recommended)

Supported Web Browsers

Internet Explorer version 11.0
Google Chrome™ (The newest version and the most recent previous version)
Mozilla® Firefox® (The newest version and the most recent previous version)
Microsoft Edge latest version

Internet Connection

Broadband or equivalent high speed connection is highly recommended.

Display

Desktop - High-colour display with 800 x 600 pixel resolution or above
Upgrade Windows Operating System
Upgrade your operating system to the supported version. For information on how to upgrade your operating system, check the following Microsoft articles:
For assistance in upgrading your Windows version, contact Microsoft Support.
Perform Windows Update
Click this button below to download WindowsUpdate.zip

Download WindowsUpdate.zip
Open WindowsUpdate.zip and run WindowsUpdate.zip This will open Windows Update.
Click on Check for updates.
If updates are found, tap or click View details.
In the list of updates, select the updates that you want to install and click Install.
After the installation is complete, restart your PC to the update to take effect.