You are unable to see all licenses (Serial Numbers) in your Trend Micro MyAccount page.
---
There are two possible reasons why this happens:
You are accessing MyAccount on an Apple iOS 13 device
This is a known issue wherein iOS version can't display all the licenses. This can be resolved by selecting either active or expired licenses only from this dropdown: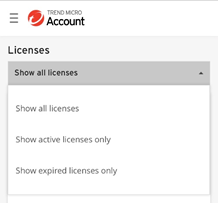 The license type for your account is not supported in MyAccount
If you are still unable to view the license after changing the view, please contact Technical Support for assistance.