You see this message from Trend Micro Security when you are browsing with Google Chrome on your Windows computer: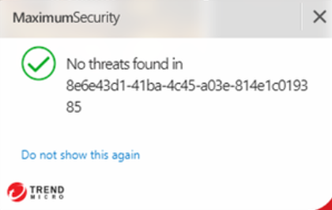 "No threats found in ---."
This pop up also includes random letters, numbers and characters.
Why am I seeing this?
Trend Micro detected and scanned files your Google Chrome browser downloaded and installed in the background to keep its program version up-to-date.
The Download File Scan feature from Trend Micro notifies you when files downloaded on your Windows computer are either safe or dangerous, preventing malware infection.
What should I do next?
Since Trend Micro already scanned the file and found no threats, you can click the X button to close the window.
Pop up keeps showing
Click Do not show this again. However, you will not be notified again whenever a file is downloaded on your browser.
Need help?
Reach out to our Trend Micro Support Representatives through phone or chat.