Second Phone Number is simply another phone number you can use on your existing mobile phone.
Rather than give out your personal mobile number, you can use the Second Phone Number in situations where you do not want to give out your personal number. For example:
Signing up on online websites or apps.
Buying and selling on shopping eCommerce websites
Registering a local service.
Other registrations and applications that needs your mobile number.
Note: As Second Phone Number is a VoIP-based service, it might be rejected by some third-party services or apps.
How to get a Second Phone Number in Trend Micro Check
To get a Second Phone Number, follow the instructions below:
Open the Trend Micro Check app.
Go to the 2nd Phone No. tab.
Enter Your Phone Number and then tap Get Code.
You'll receive a one-time confirmation code.
Type it in, and then tap Verify.
Get your Second Phone Number.
The next page will display your brand new Second Phone Number. Just tap OK, and you're all set!
You can also view and copy your Second Phone Number from the home page of your Trend Micro Check!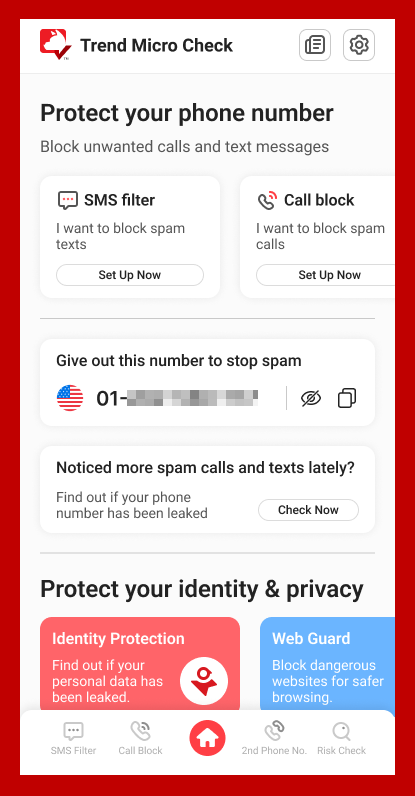 How does Second Phone Number work?
You can receive and reply the text messages you receive in the Trend Micro Check app. This helps you filter out spams or scams and categorize message into message folders. In this way, you can separate those services you enrolled from your primary communication and keep your personal phone number private and secure.
Open the Trend Micro Check app.
Go to the 2nd Phone No. tab.
Tap All Messages to view the messages received by your Second Phone Number.
I have more questions
Tap your 2nd Phone Number on the app, then tap Frequently asked questions to see what items our users always look for.