Enabling Folder Shield helps protect your files including its subfolders from ransomware attacks.
PRO TIP!
You can also protect important files stored and synced in Microsoft OneDrive, Google Drive, or Dropbox.
Add your cloud storage to the Folder Shield list now.
Configure Folder Shield
Open Trend Micro, then click the Data tab.

Click Configure beside Folder Shield.

Read the introduction, then click OK.

Put a check beside Don't show this introduction again before clicking OK if you do not want to see this window every time you configure Folder Shield.

Click Protect More to choose more folders.

A Setup Complete window will appear after careful selection.

Click Done to save the changes.
Add another folder to protect
Click the Manage Folder button.

Choose a new folder:


Protect your Data in the Cloud

You can also protect Cloud Storage folders and files synced on your computer:

OneDrive
Google Drive
Dropbox
Add a program to the Trusted Program List
Click the Trusted Program List link.

Click Add, then click Browse. Search for the program you will allow access to the protected files.

You can only add one program at a time.

Click Done to save the changes.

To remove a program on the list, put a check on the program, then click Remove.
Turn OFF Folder Shield
Drag the slider to the LEFT.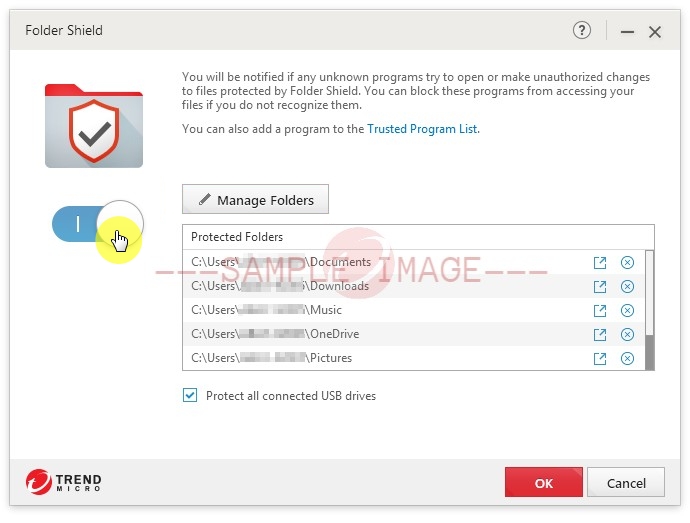 To turn it back ON, drag the slider to the RIGHT.