You see this error while installing Windows Updates:
"Some apps need to be uninstalled"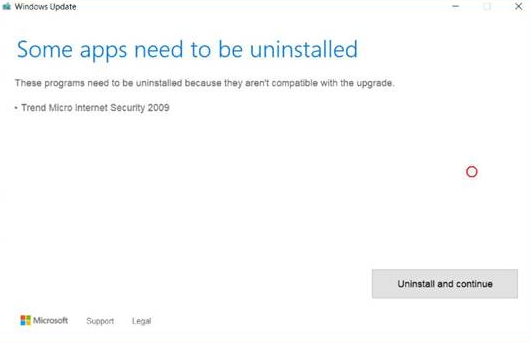 Why did this happen?
There are remnants of an old version of Trend Micro Security which are not compatible with Windows 10. This may include any of the following versions below:
Trend Micro Security 2010 (Internet Security Pro 17.5)
Trend Micro Security 2009 (Internet Security Pro 17.0)
Trend Micro Security 2008 (Internet Security Pro 16.0)
Trend Micro Security 2007 (Internet Security Pro 14.0)
How do I fix this?
Download Old TM Remover.zip here.
Unzip OldTMRemover.zip:

Save the zipped file (for example, Sample File.zip) to a familiar location, such as your desktop.
Double-click the file to open it, then click File > Extract All from the top menu.
When you are prompted for a password, type novirus.
When the Extraction Wizard window appears, click Next.
When you are prompted to select the location for the extracted files, click Next. You do not need to make any changes since the default location is where you saved the zipped file. The program will create a folder with the same name as the zipped file.
Click OK.
Wait for the extraction to complete, then click Finish. Make sure that the box beside Show extracted files is ticked so that Windows will automatically open the location of the extracted files.

Right-click Old TM Remover.bat, then select Run as administrator.
Click Yes when the User Account Control window appears.
Click OK. A Command Prompt window will appear to automatically remove the old Trend Micro components.
Once it says files are deleted successfully, retry Windows Update.
If issue persists, contact Trend Micro Technical Support.