You receive the following error message while signing in to Password Manager: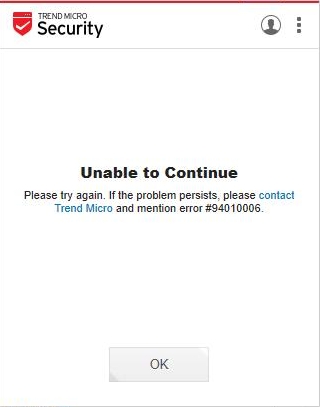 "Unable to Continue
Please try again. If the problem persists, contact Trend Micro and mention error #94010006."
The error code could also be:
94000001
94000002
94000003
94000010
94010001
94010002
This error appears when creating a master password fails.
---
Create a New Master Password
Open Microsoft Edge.
On your keyboard, press the

CTRL

+

SHIFT

+

DELETE

keys at the same time while the Edge browser is open.
Click Clear.
Create a Master Password again in the Password Manager card.

If issue recurs, please check if the Master Password is created in the Password Manager Web Portal. Do the following:

Go to the Password Manager web portal.
Sign in using your Trend Micro account.
Create a master password when asked.
Open Trend Micro Security and sign in Password Manager. Your master password should be created.