ESTIMATED READING TIME: 2 minutes
TABLE OF CONTENTS
Are you concerned about the security of your home network? Don't worry; you're not alone. We'll guide you through the process of changing your WiFi name (or SSID) to bolster your home network security.
Why Should You Change Your WiFi Name?
First things first, what's a WiFi SSID, and why should you change it? Your WiFi SSID is essentially the name of your wireless network or router. But here's the catch: using the default WiFi SSID that came with your router can put your network at risk. Why, you ask?
The Risks of Using a Default WiFi SSID
Hackers often target WiFi networks with default SSIDs because they assume that the owners may not have taken the necessary precautions to secure their home networks. They can employ password-cracking tools that specifically target default and commonly used WiFi SSIDs, making it shockingly easy for them to gain access to your wireless network and potentially steal sensitive data.
Some default WiFi SSIDs even use the manufacturers or brand name, giving attackers valuable information to recognize and exploit known vulnerabilities in your device. Scary, right?
Choosing the Right WiFi SSID
So, what's the solution? It's simple: choose a unique WiFi SSID that sets your home network apart from the rest. The more unique it is, the better protected you'll be. Here are some tips for picking a strong WiFi SSID:
Go for a longer name that includes both letters and numbers.
Never include personal information like your name, address, date of birth, or passwords in your WiFi name.
Don't forget to update your WiFi SSID and password regularly—aim for every three months.
How to Change Your WiFi SSID
Ready to make the change? Here's a step-by-step guide:
Open your web browser on your computer or mobile device (Google Chrome, Microsoft Edge, or Mozilla Firefox will work).
Log in to your home router's Admin console. Each router brand may have different login methods, so check your Router Manual for details. Typically, you can access it through http://192.168.1.1.
In the address bar, type the Router IP address from the previous step and hit ENTER.
Find the Wireless menu option.
Locate the Wireless Network Name (SSID) field and change the default SSID name.
Click Save or Apply to confirm your changes. You might need to reboot your router for them to take effect.
Reconnect all your wireless devices using the new WiFi SSID.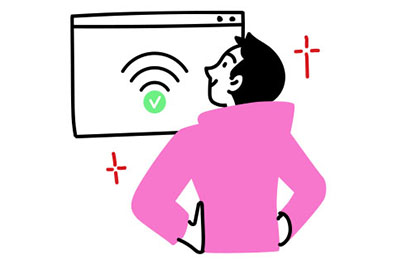 Boost your Home Network Protection
Besides changing your WiFi SSID, it's essential to ensure robust network security. Consider using Trend Micro Home Network Security to shield your sensitive and financial data from hacking, phishing, and other risky online threats.
Protect your digital fortress—read on to learn more about enhancing your home network security.
Ask The Community!
Need more answers on Network Care and Security? Share your questions or join discussions to our Trend Micro Community!