Fraud Buster detects fraudulent messages using AI technology, sent to Gmail and Outlook.com. on Google Chrome or on Chromebooks.
Enabling this feature allows Trend Micro to scan your email content to protect you against scam, phishing, and suspicious emails.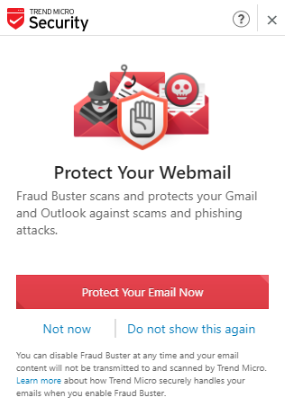 ---
Enable Fraud Buster
While logged into Gmail or Outlook, click the Turn on Fraud Buster button.

If you have closed the popup, you may open the main console, and then click Fraud Buster.

Read and accept the Data Collection Notice, and then click Agree and Turn On.

You will see this message when Fraud Buster is enabled completely.
Scan malicious emails
When you open an email in your Gmail or your Outlook.com accounts, Fraud Buster automatically scans its contents. If you receive a dangerous, phishing, or scam mail, Fraud Buster will show a warning message on the browser.
Here are the pop-up messages that you might see: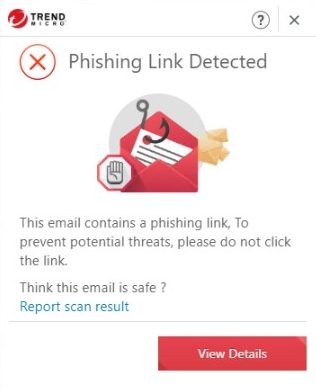 View Detection Summary
Click View Details.

Depending on the result, Fraud Buster will also provide recommendation to ensure you are protected online.
Report falsely detected emails
If Fraud Buster detects a non-malicious email, you can report it to us to improve its AI technology.
Click Report scan result. It will automatically be sent to Trend Micro for analysis.