ESTIMATED READING TIME: 3 minutes
TABLE OF CONTENTS
Are you concerned about the security of your email account? Worried about falling victim to a hack? Relax, we've got your back. In this guide, we'll walk you through the most effective strategies to prevent email account hacks and keep your sensitive information safe.

TIP 1: Set Up Internet Security and Antivirus
If you're using Trend Micro Security, turn on Protection Against Web Threats and Prevent Unauthorized Changes features to protect you against Phishing attacks and other online threats.
Update your protection to the latest version whenever you receive a warning or notification from your security software or Windows Security Center.
TIP 2: Avoid Opening Links and Attachments from Unknown Senders
Hackers use this method to gain access to your system. Once infected, they can get your email account username and password using special monitoring software.
TIP 3: Use Strong and Secure Passwords
Use a combination of uppercase and lowercase letters, numbers, and special characters to generate strong passwords.
Avoid using the same password for multiple accounts.
Random passwords are the strongest. If you're having trouble creating one, you can use the Trend Micro Password Generator.
TIP 4: Review Your Email Account Profile Regularly
Learn how to use your email's password management feature and use it to change your password regularly.
Regularly review your email account profile password verification/reset information.
Make sure the date of birth, alternate email address, etc. are specified and accurate. These must be something that you can remember if you ever need to reset your email account password.
Avoid using personal information/questions for any additional customized password reset questions.
When you create an account, save the codes that are given to you. These codes can help you regain access of your account if you need to in the future.
TIP 5: Be Mindful about Exposing your Personal Information
Be mindful and alert when asked about your personal information - who is asking and why do they need it.
Never disclose and confidential information on Social Media and other media-sharing sites.
Use Trend Micro ID Protection to monitor your personal information and receive alerts and recommendations if it is discovered in a data breach or is at risk of identity theft.
TIP 6: Be Mindful of Publicly Available Personal Information
Ensure that your security questions are not available in public.
Use security questions that cannot be answered with a search engine.
Be cautious about how much of your personal information has been shared on websites such as in social media, Goverment sites, and press articles.
Hackers can use personal information found on various sites to link your email address with your name and other information. These can be used to answer security questions and gain access to your accounts.
TIP 7: Avoid using public computers and WiFis
Be mindful of the WiFi names. Sime WiFis may look similar to ones that you know of, but their type is different. This is very common in public areas such as airports.
Don't use a Computer to Computer (Ad-hoc) network in a public place.
Install a good VPN service like VPN Proxy One Pro to hide your identity and prevent hackers from getting your personal information, especially when using public Wi-Fi.
TIP 8: Enable Automatic Windows Update
To update your Windows Operating System, refer to this Microsoft article for detailed instructions and FAQs: Windows Update: FAQ. You can also access Windows Update via the shortcut button below:
Check Windows Update
TIP 9: Monitor your Email Account Activity
Email/Social Networking/Media Sharing Accounts – regularly make sure that you can sign into any accounts you may have
Sent Items Folder – may store some evidence of potentially malicious emails that may have already been sent to your friends/colleagues
Activity Logs – Some providers, such as Gmail, have an Activity Log feature that allows you to check recent activity on your account
TIP 10: Archive and Purge your Emails Regularly
Purge all emails that you no longer need.
Back up your emails using the traditional SMTP/POP email clients offered by most email providers.
If your web-based email account has already been hacked, learn how to recover your account here.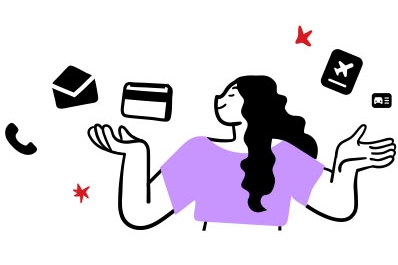 UNLOCK THE SECRETS OF ONLINE PRIVACY!
Discover the world of Internet Privacy and dive into essential topics like online safety, protecting your digital identity, and caring for your devices.
Visit our 👉 Cybersecurity Learning Center! 👈