Know where to find your Trend Micro Password Manager activation code or key to register and activate your subscription so you start protecting your login credentials while providing additional protection against online threats.
For online purchases
Get the activation code from your Order Confirmation email. Check the spam mail folder if your Order Confirmation Email is missing.
Below is an example of an Order Confirmation Email: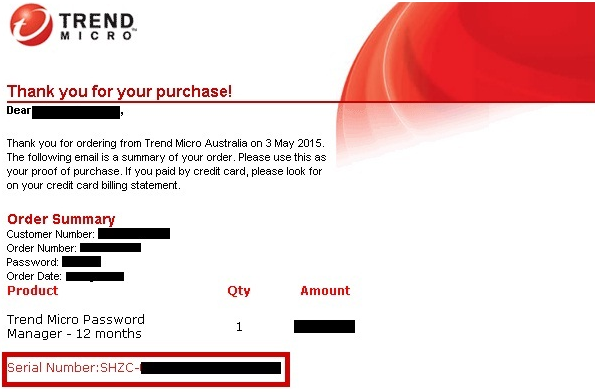 If you did not receive any, contact Technical Support, then provide these details:
For In-App Purchases
There is no activation code for purchases made through Microsoft Store, iTunes, Google Play Store & iOS App Store. It will automatically update the expiration date after purchase.
Check your Trend Micro Account
Type your email address and password, then click Sign In.
If you set up Two-Factor Authentication, you will need to type in the verification code sent to your preferred method (Authenticator App, Email or Text).
Click the Licenses tab, then look for Trend Micro Password Manager on your existing subscription.
You will see the Serial Number or Activation Code right below the product name.
Need help?
Reach out through our Technical Support.