Security Report provides details on the dates and types of threats your Trend Micro program blocked.
Security Threats
Shows malware, web threats, unauthorized changes, and suspicious access attempts discovered.
Period: Date covered in the recent report. Click the dropdown to change the date range.
ransomware threats found: Number of malicious processes acting as ransomware your Trend Micro program detected.
Folder Shield access attempts: Number of suspicious programs that tried to access the documents Trend Micro Folder Shield protected.
Web threats filtered: Number of malicious websites and suspicious pages your Trend Micro program blocked.
Computer threats found: Number of viruses, spyware, unauthorized changes and network threats your Trend Micro program blocked.
See more details: Thorough information about the threat and how your Trend Micro program responded to it.

If a file or program was falsely detected as a malicious threat, add it to the Exception List.
PC Health Checkup
Shows the disk space and startup time saved, and the privacy data safety cleaned after using PC Health Checkup.
space recovered - Amount of storage space recovered in bytes.
startup time saved – Amount of time saved during computer startup in seconds.
privacy data safety confirmed –Number of programs where your private information has been cleaned.
See more details - Specific information of changes per view category.
Parental Controls
Shows a summary of the top websites Parental Controls blocked.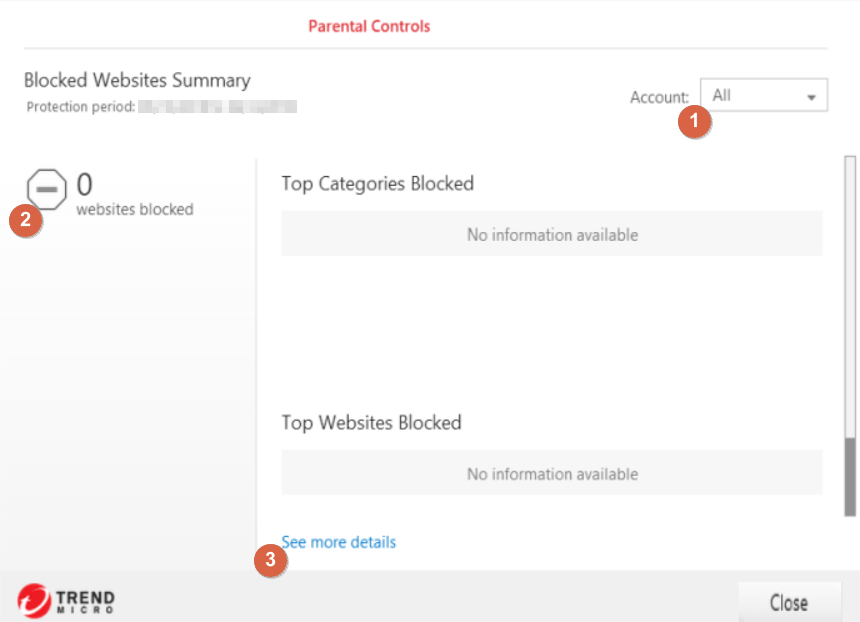 Account: Shows which child account is displayed. Click the dropdown to select a different account.
websites blocked: Number of websites your child tried to visit.
See more details: List of websites blocked and the time it was accessed.
Browser Passwords
Shows the number of passwords saved in browsers your Password Manager protects.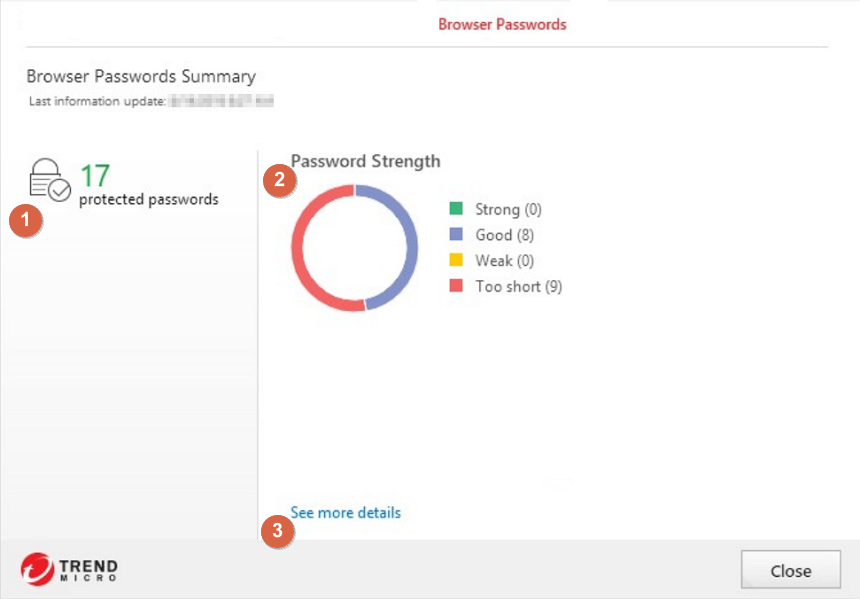 protected passwords: Number of passwords you have saved in Password Manager.
Password Strength: Shows how secured your passwords are.
See more details: Open these passwords in Password Manager.