You receive the following error message when activating your Antivirus for Mac: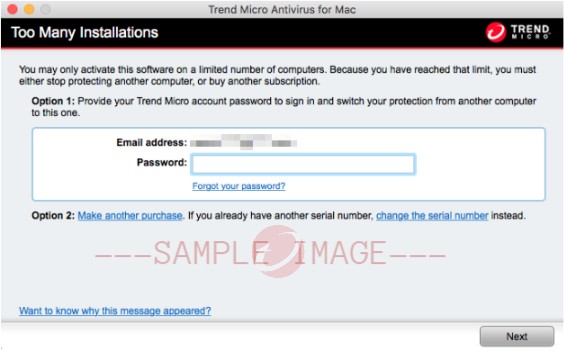 "Too Many Installations.
You may only activate this software on a limited number of computers. Because you have reached that limit, you must either stop protecting another computer or buy another subscription."
This happens when you have installed or activated the program too many times.
---
Why am I getting this message?
Your Trend Micro program subscription has different license seats. This error message appears when there are no available license seats left on your subscription. A license seat is used when you:
Install the program on your Mac or other Macs.
Install the program on the same Mac more than once.
Reinstall the program on the same Mac after reformatting its hard drive.
Upgrade the program on the same Mac where an old version was previously installed.
How do I resolve this issue?
On the Password field, type your Trend Micro account password, then click Next.

If you cannot remember your Trend Micro password, click Forgot your password? to reset your password.

Select the name of the computer or device where the program was previously activated.
Provide a computer name.

Example: "New Mac Book Pro" or "Home Computer"

Click Next.

Click Finish.

If you have multiple computers:

Buy additional protection by clicking Make another purchase on the Transfer Protection window.
Manage your license seats by accessing your Trend Micro Account.