You may get this message when the scan takes longer than two minutes in a file: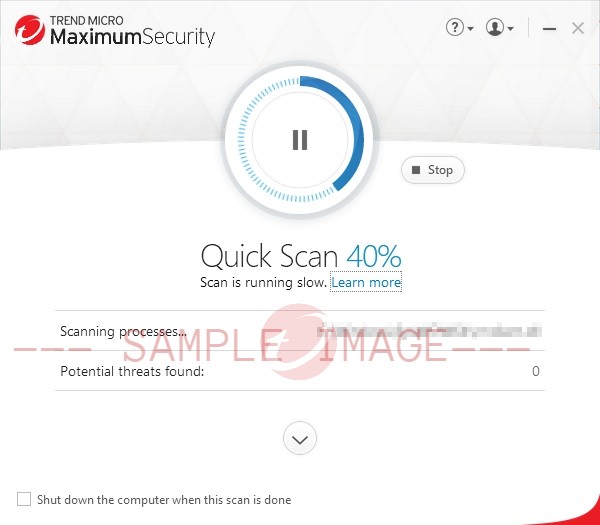 "Scan is running slow."
---
Why is this happening?
Scanned file is too big.
Scanned file is damaged and unusable.
Your PC does not allow the program to scan the file.
How do I fix this?
Restart the Trend Micro Security program:
Open the Trend Micro Diagnostic Toolkit:

On your keyboard, press the Windows +

R

keys. The Run window should be open.
In the Open field, type supporttool.exe, then press

ENTER

. The Trend Micro Diagnostic Toolkit should open.

Click the (C) Uninstall tab.
Click 5. Stop all components.
Wait for 10 seconds.
Click 4. Start all components.
Open the Trend Micro Security program again.
Run the scan again.
How can I prevent this from happening?
Get the latest updates of Windows 10.
Delete temporary files in Local\Temp and Windows\Temp folders.
Delete and uninstall programs and apps that you no longer use to free up space and lessen files to scan.
If scan is taking too long, stops or hangs on a certain file/location/program, check if there's an update for that program.
Still not working?
Get more help through our Technical Support.