You encounter this message when Trend Micro Security software is scanning slower than expected: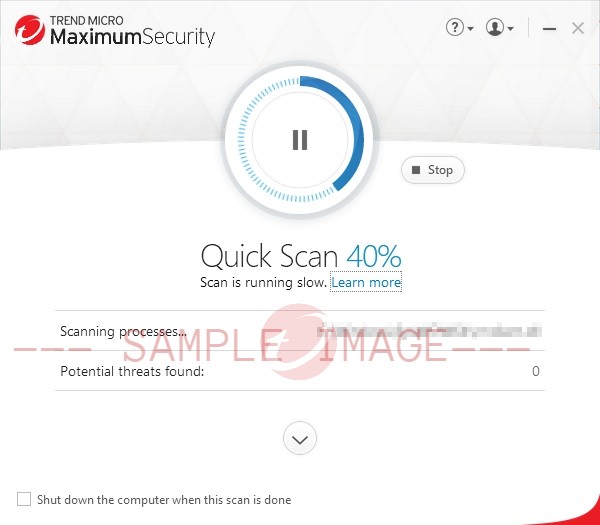 "Scan is running slow."
If the scan window does not show any progress or it is stuck scanning at a certain percentage or file, it can be considered that the scan is running slow.
This can also be verified under the Applications tab of the Windows Task Manager by checking the status of the Trend Micro Security scan window if it is either "Running" or "Not Responding".
This may happen due to the following:
File being scanned is too big
File being scanned has no permissions
File being scanned is corrupted
---
Restart Trend Micro Security components
If you have encountered this message multiple times, restart Trend Micro Security program:
Right-click the Trend Micro icon in the System Tray (near the clock at the bottom right part of the screen).
If you do not see the System Tray icon, click the arrow button to show the rest of the icons.
Select Exit.

Wait for Trend Micro's System Tray icon (near the clock at the bottom right part of the screen) to disappear.
Once the icon disappears, Trend Micro is now disabled.
Reopen your Trend Micro Security software. Double-click the Trend Micro icon on your desktop.

Run the scan again.
If you have done this before but you still encounter the issue, contact Technical Support.
FOR WINDOWS 7 Users
Microsoft has formally announced Windows 7 End of Support. Because Microsoft no longer fixes issues on this version, it has become increasingly difficult for Trend Micro to keep users safe on this operating system. We encourage all of our users to upgrade their PCs to a more modern operating system which will provide greater stability and security.