You see this pop up on your computer: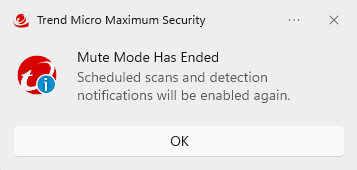 Why am I getting this message?
The time you assigned to leave Mute Mode ON has expired.
What should I do next?
Click OK to close the window.
If you still need to use Mute Mode, go to Settings , then select Stay in Mute Mode for 2 more hours to leave it ON for another two hours.
Want to see the pop up again?
Click the Date and Time in the taskbar to show the Notification Center.
Want to turn off Mute Mode notifications?
Go to Settings , then choose Do not show this again.
See also