You see this message on your computer: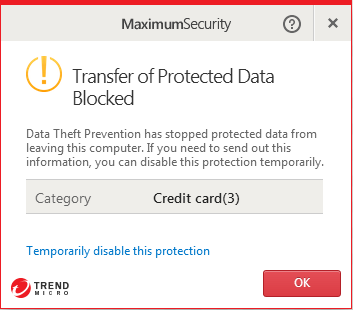 Why did this happen?
You entered information on a website with the same details you saved in Trend Micro Data Theft Prevention.
What should I do next?
Since Trend Micro already protected your sensitive information from hackers and spyware, click OK to close the window.
I need this info sent out.
Click Temporarily disable this protection, then press the F5 key on your keyboard. The website will refresh and disable the Data Theft Protection feature for 30 minutes. Make sure the website safe and secured.
See also
Still having issues?
Get more help through our Technical Support.