ESTIMATED READING TIME: 2 minutes
TABLE OF CONTENTS
In today's digital age, securing your Wi-Fi network is more critical than ever. In this guide, we'll walk you through the simple steps to change your Wi-Fi password and enhance your digital fortress. Let's dive in!
What is a WiFi Password?
Think of it as the digital key to your wireless kingdom. It's a unique combination of letters, numbers, and symbols that guards your network from unwanted intruders. Before anyone can access your network, they must enter this password.
Why Should You Care About Changing Your WiFi Password?
Changing your WiFi password is like locking your front door at night. It keeps cybercriminals at bay and your data safe. Here's why it's essential:
Protect Your Wireless Haven: A weak password invites trouble. Learn how to keep your digital fortress impenetrable.
Safeguard Your Data: Your personal and business data is on the line. Discover how a strong password shields you from data theft.
Keep an Eye on Your Network: Learn how changing your password can help you monitor your network traffic and bandwidth.
How Do You Change Your Wi-Fi Password?
Fear not, we've got your back with easy-to-follow steps:
Open a Web Browser: Grab your computer or mobile device and open a web browser like Google Chrome, Microsoft Edge, or Mozilla Firefox.
Log Into Your Router: Accessing your router's Admin console is the key. Check your Router Manual for specifics.
Navigate to Wireless Security: Find the Wireless or Wireless Security menu. The path may differ slightly depending on your router brand.
Choose WPA2-PSK: Opt for WPA2-PSK as your encryption option. If it's not available, consider updating your router firmware.
Create a Strong Password: Craft a robust password that's difficult for anyone to crack.
Save and Reboot: Click Save or Apply to confirm your changes. You might need to reboot your router for them to take effect.
Reconnect Your Devices: Finally, reconnect your devices using the new Wi-Fi SSID and password.
When is the Perfect Time for a Password Change?
Security experts recommend changing your Wi-Fi password every 90 days. And if you ever sense anything fishy on your network, don't hesitate—change it right away. But remember, the key to security is crafting a password that's tough to crack.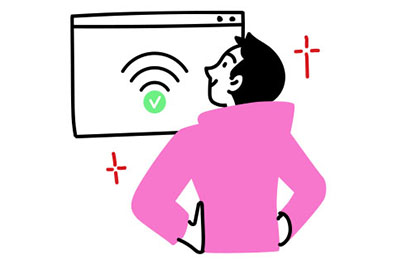 Enhance Your Wi-Fi Security with Trend Micro
Take your Wi-Fi security to the next level with Trend Micro Home Network Security. Safeguard your router and connected devices from the ever-present threat of cyberattacks.
Ask The Community!
Join our community discussion and get answers from experts and fellow users who have faced similar questions.