Know what to do when you see these Mute Mode pop ups on your Windows PC.
---
Mute Mode Has Ended
This appears when the period of time you scheduled for Mute Mode has finished.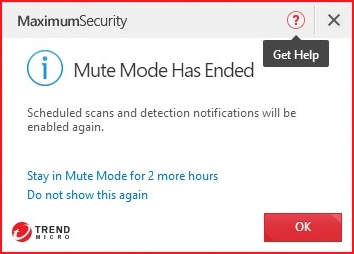 "Mute Mode Has Ended"
Click Stay in Mute Mode for 2 more hours to extend Mute Mode for another 2 hours.
Mute Mode Has Been Turned Off
This appears when Mute Mode is ON for 24 hours after extending it manually. Trend Micro does not allow enabling Mute Mode for this long as you might miss important updates, scans, and detection notifications.
"Mute Mode Has Been Turned Off"
Should you want to enable Mute Mode again, click Open settings.
Threats Resolved
When there are detected threats while Mute Mode is enabled, a summary of threats detected on your computer will appear when Mute Mode ends.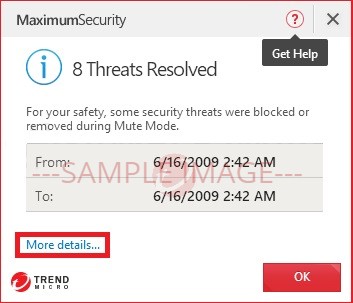 "_ Threats Resolved"
If you wish to know more about the threats that were detected, click More details….
Related Info