You receive the following notification from your Trend Micro Security software: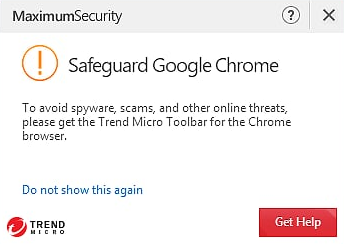 "Safeguard Google Chrome
To avoid spyware, scams, and other online threats, please get the Trend Micro Toolbar for the Chrome browser."
This happens because Google Chrome released a security enhancement that automatically disables all third-party browser extensions which includes the Trend Micro Toolbar.
The Trend Micro Toolbar provides additional security by working with Google Chrome to provide safety ratings to websites when you do searches online. This allows you to check whether a link or website is either Safe, Suspicious or Dangerous before you access it.
FOR WINDOWS 7 Users
Microsoft has formally announced Windows 7 End of Support. Because Microsoft no longer fixes issues on this version, it has become increasingly difficult for Trend Micro to keep users safe on this operating system. We encourage all of our users to upgrade their PCs to a more modern operating system which will provide greater stability and security.
---
You may check the information below: