Trend Micro Toolbar warns you about security risks with the websites you try to visit.
When you search online, it monitors and rates the websites in these search engines:
Google
Bing
Baidu
Biglobe
Infoseek
OCN
Goo
Yahoo!
Page Ratings
Hover your mouse over a website link from the search result, and Trend Micro Toolbar will show the page rating.
Check out this video on how Page Ratings works.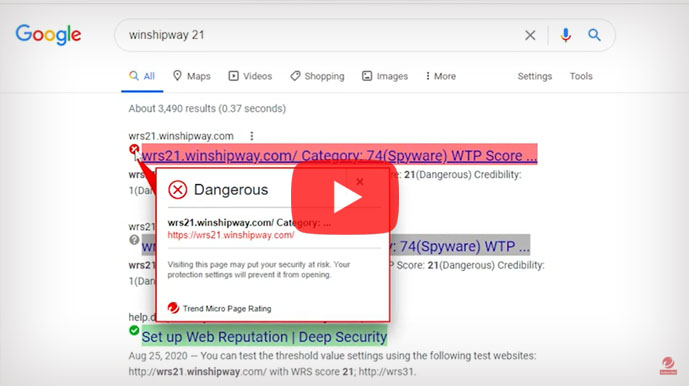 | Icon | Status | Description |
| --- | --- | --- |
| | Safe | Feel free to open. |
| | Suspicious | This page could pose a security risk. Avoid if possible. |
| | Dangerous | It may contain hidden malware, or may steal your information. |
| | Blocked | You decided to block this page. |
| | Trusted | You decided to trust this page, but Trend Micro has not confirmed this rating. |
| | Untested | Trend Micro has not yet tested this page. It may use an unsupported protocol (something other than HTTP or HTTPS). |
| | No Response | Unable to contact the page rating system. Check your Internet connection and proxy server settings. |
See also