Logs include important program events that happened on your computer. They also provide a summary of threats Trend Micro has protected you in detail.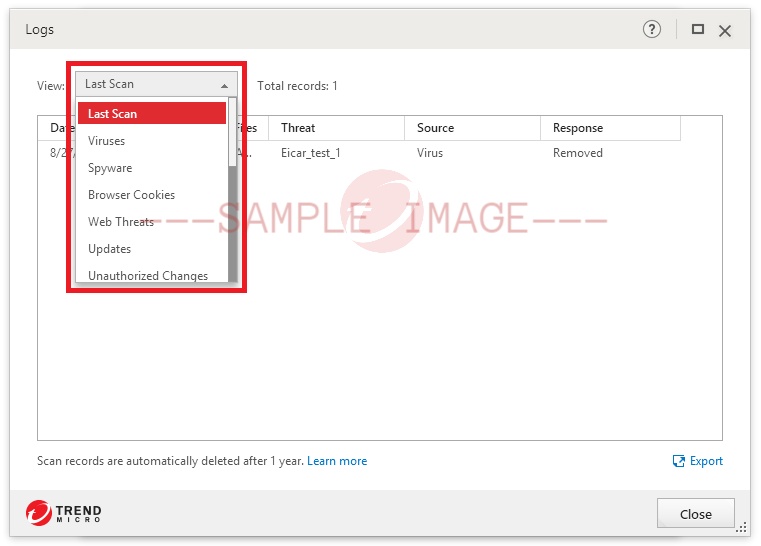 Log Types
| Log Type | Description |
| --- | --- |
| Last Scan | Detailed results of the most recent scan, and what was done in response to the threats found. |
| Viruses | Viruses, worms, and similar threats found, and the actions taken against them. |
| Spyware | Suspected spyware programs found, and the actions taken against them. |
| Browser Cookies | Security threats found among your web browser cookies, and the actions taken against them. |
| Web Threats | Websites that has been blocked because it could pose a security risk. |
| Updates | Components of the program have been updated recently. |
| Unauthorized Changes | Files, resources, and processes involved in attempts to make unusual changes to the computer settings (such attempts often indicate the presence of malicious software). |
| Data Theft Prevention | Categories of items of protected information that have been intercepted. |
| Startup Protection | Windows drivers found to pose a risk to your security on computers running Microsoft Windows 8. |
| Network | Source and destination of online threats found, identified by the IP address (every device connected to a network has an IP address). |
| Folder Shield | Programs stopped to prevent them from accessing files Folder Shield protects. |
| Exploit Protection | Programs stopped to prevent attackers from taking advantage of security weaknesses. |
| Parental Controls | Websites Parental Controls blocked. |
| Regain Disk Space | Files removed to regain disk space. |
| Clean Privacy Data | Files removed to improve your privacy. |
| Ransomware | Suspected ransomware programs and websites found, and the actions taken against them. |
| Secure Erase | Files Quick Erase or Permanent Erase deleted. |
| Wifi Advisor | Access points (wireless networks) recognized as risky or dangerous. |

You must activate some features like Parental Controls, Secure Erase, and Data Theft Prevention before seeing any reports or data from them.
Responses
| Response | Description |
| --- | --- |
| Cleaned | A threat was removed from a file. |
| Removed | A file with an unremovable threat or a suspected spyware program was deleted. |
| Restart required | You must restart the computer to finish removing all remnants of the threat. |
| Access denied | The scan did not have full "read/write" access to where the threat was found (such as a CD-ROM or network drive). |

To deal with any unresolved threats, click the status and follow the instructions.
Related Info