You see this pop up on your computer:
"Website Blocked. Trend Micro has confirmed that this website can transmit malicious software or has been involved in online scams or fraud."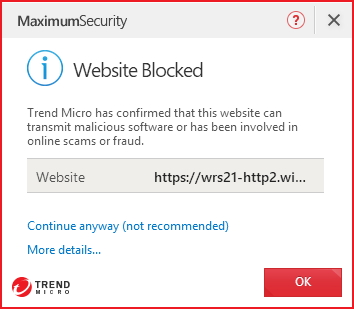 Why did this happen?
The website you are trying to visit may be potentially harmful or dangerous.
You may have also allowed a malicious website notification on your web browser.
What should I do next?
Since Trend Micro already blocked the website from potential threats, click OK to close the window.
Pop up keeps showing
Do the following:
I still want to visit the page
If you think the website is safe, click Continue anyway (not recommended) or add it in the Exception List. However, your computer may be in danger of malware infection.
Website is misrated
File a Reclassification Request to Trend Micro Site Safety Center.
Still having issues?
Get more help through our Technical Support.
See also