Fraud Buster scans webmail that contains no malicious links or attachments, however dangerous, that goes undetected by traditional email security technology.
Check out this video for Fraud Buster tips and tricks.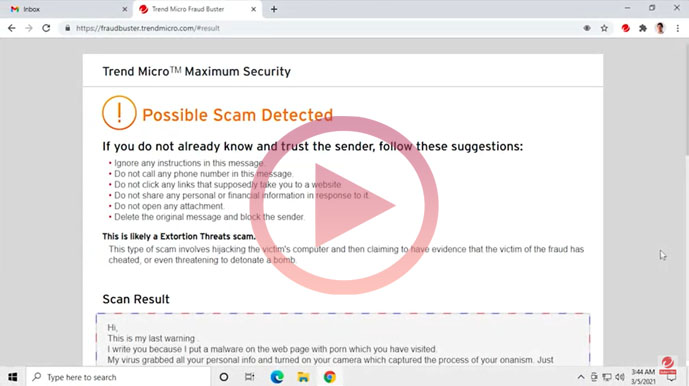 How Fraud Buster works
Fraud Buster detects fake messages using AI technology to identify the topic and to understand the intention of the scam email and warns you against it upon discovery. You can then delete it with confidence.
Turn ON Fraud Buster
Trend Micro Toolbar should be enabled so you can use Fraud Buster.
Login to Gmail or Outlook.
Click the Trend Micro Toolbar, then choose Fraud Buster.

Click Turn on Fraud Buster.

After reading the license agreement, click Agree and Turn on.

You will see a check on Fraud Buster to confirm it is now enabled.

To turn it OFF, click Fraud Buster again in the Trend Micro toolbar.

Open an email. Fraud Buster will scan its contents. You will see these pop ups if they detect something suspicious:
View Detection Summary
Click View Details for more information about the detected threat. It may also contain recommendations on how to protect yourself online.
Report falsely detected emails
Click Report scan result. It will automatically be sent to Trend Micro for analysis.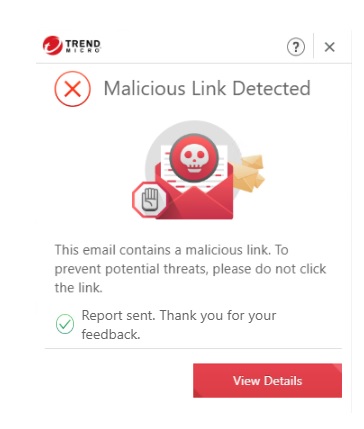 Trust a sender
Click Trust this sender > Trust.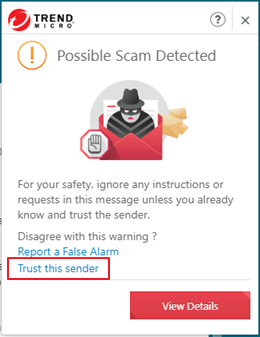 Fraud Buster will no longer notify you when there are possible scams detected in this sender's messages.
Related Info