Enjoy your gaming experience with less interruption from pop-ups or other apps and boost your computer performance just by following these steps.
1. Suspend computer notifications
Trend Micro Mute Mode helps you improve your gaming performance by preventing less important pop-ups from appearing on your screen. Follow these recommended settings.
Open Trend Micro, then click Device tab.
Click Configure beside Mute Mode.
Toggle the switch to ON.
For a seamless gaming experience, you can also terminate other apps to lessen your computer's CPU and memory consumption. Under Terminate Program List, just click Add to close the program while in Mute Mode.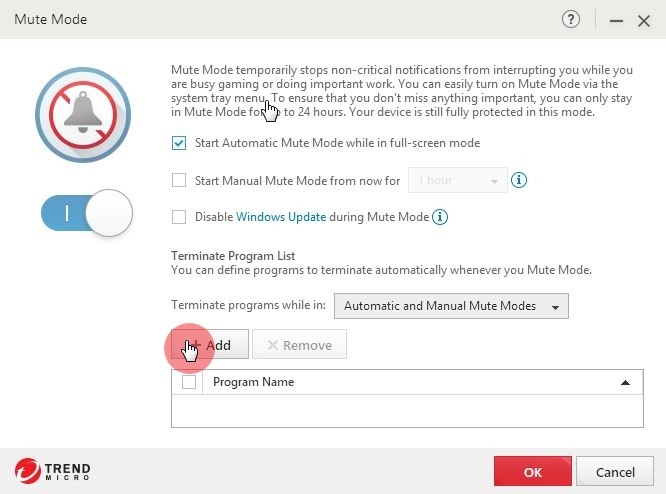 2. Scan and Optimize
After applying the best settings, run the PC Health Checkup and follow its recommendations.
Open Trend Micro, then click the Device tab.
Click Start beside PC Health Checkup to run a scan.

Once finished, results will display suggested improvements. You can:
3. Make It Automatic
Trend Micro can help you decide the best time to do a scan. Turn On the Smart schedule and let the app scan your PC when needed.
Open Trend Micro, then click Settings .
Click Security & Tuneup Controls > Scheduled Scans.
Put a check beside Conduct a scheduled scan of the computer, then choose Smart schedule.

Your PC is now ready. Happy gaming!
TIP: Enable Multi-Factor Authentication to protect your game accounts from online thieves and hackers.
See also